See more of the story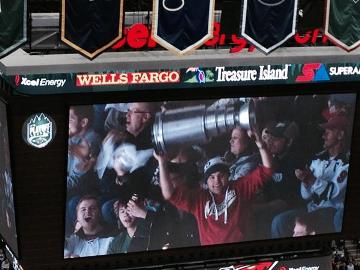 Midway through the second period of the Wild's 3-0 victory over St. Louis on Monday, a transformation took place.
A building that was nervous … and a team that was tentative … suddenly united with the rarest of Minnesota displays: confidence.
Some might even call it swagger.
From the point Zach Parise found Jason Pominville for a tap-in goal to the final whistle, that's what I saw on the ice at Xcel Energy Center. And as someone who wondered going into this game how the Wild and its fans would respond to the pressure of expectations … well, consider me impressed.
The Parise/Mikael Granlund/Pominville line was simply dominant, particularly in that second period. The first goal was set up by great stickhandling by Granlund before great vision by Parise and the easiest finish of Pominville's life. The second goal was classic Parise, outworking a defensive player in the slot for a loose puck and banging it past goalie Jake Allen in one quick motion.
Still, after Granlund missed a bad-angle tap-in that would have iced the game in the third period, the veteran hockey minds around me concluded that it would be a nail-biter at the finish – that the Blues would score and threaten to tie.
These folks have seen a lot of Wild games. They've seen a lot of Minnesota sporting events. It's a natural reaction. But again, there was that swagger.
The Wild closed it out with ease, never being threatened before adding the empty-netter that sealed the deal with 2 minutes left. Minnesota gave up just 17 shots all game. Vladimir Tarasenko, one game after notching a hat-trick, was a minus-3 and had zero shots.
If that wasn't enough confidence for you, how about Jason Zucker, one of the smallest Wild players, mixing it up with every Blues player he could find – including one shift in the second when he and Alex Pietrangelo jabbed at each other for at least 20 seconds.
Or Matt Dumba, playing in his first playoffs, laughing at Blues chief goon Steve Ott for whiffing on a check near the Wild bench.
Or even the Wild fan on the giant scoreboard hoisting a faux Stanley Cup.
After the game, Wild coach Mike Yeo had the most #Minnesotan quote ever: "We have pretty decent confidence that we've been working a long time to get."
This confidence … it's so unfamiliar. Maybe we could all get used to it?