Editor's note: Since the publication of this article, Minnesota Governor Tim Walz issued a new order asking people to stay in their homes except for essential needs. The order begins at midnight Friday, March 27, and will last for at least two weeks.
On a weekday night last week, Joey White stood by the bonfire in his neighbor's backyard, a Coors Light in one hand and his phone in the other. A dozen friends were joining him, from St. Paul, Eagan and Arlington, Va., via Google Hangout.
This was White's weekly trivia game, something he and his friends would normally enjoy together at the Minneapolis Cider Co. Now the group was larger, but virtual.
For 30 minutes after the game ended, they chatted about how their jobs were going, and about life under coronavirus. They're planning to do it again.
"It feels so unique right now because this is all so new and fresh," said White, who describes himself an extrovert. "You feel like you're cracking through ... this social wall that we've all built for ourselves."
While the state's Scandinavian atmosphere may make for better hermits than in other states, people are finding ways to stay social during social isolation. They are meeting on Google Hangouts, livestreaming on Facebook and making solo treks out to their friends' homes. Despite the risks, some say they are still trying to meet as groups — while staying the recommended 6 feet apart.
Maintaining contact with friends and family is essential during this time, said Liz Vogt, a clinical psychologist in Minneapolis. Extended isolation can have neurological impacts, she said, including depression, fatigue and insomnia.
"It's so important to keep contact with your support network as you try to cope with something that is actually traumatic in a lot of ways," Vogt said. "Something like this really disrupts any sense we have of control of our lives."
Media and technology is one way to stay connected, Vogt said. She shifted her practice to phone or video sessions; soon, they will start a yoga group for adults and dance therapy for teens.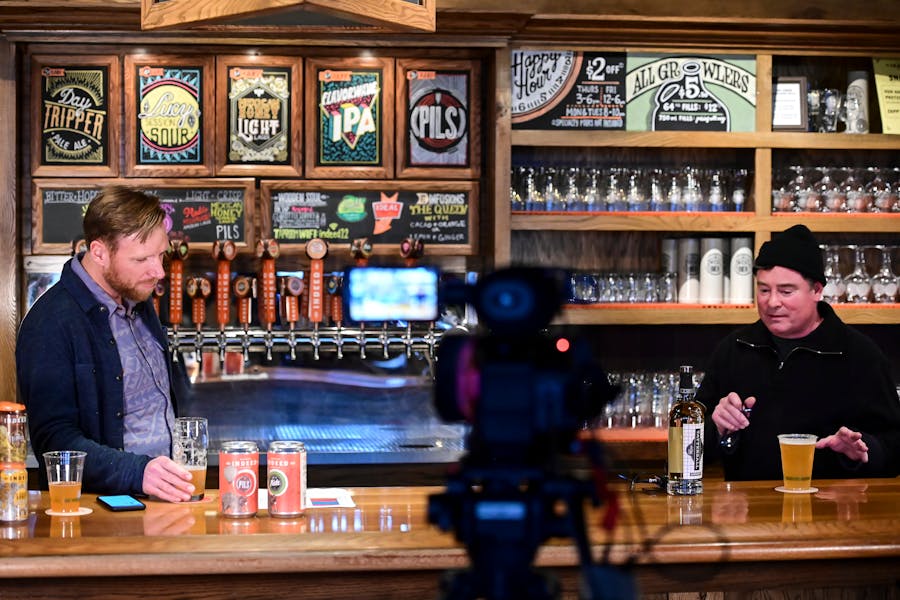 Aaron Lavinsky
It's also a new mode of business for Indeed Brewing Co. With its taprooms closed, the brewery started a happy hour variety show from its Minneapolis location and is broadcasting it live on Facebook. More than 100 people tuned in at a time for the first show.
It's partly a financial decision, as 50% of the brewery's revenue evaporated overnight, said Indeed owner and CEO Tom Whisenand. He also felt a sense of responsibility to provide a virtual space for people who would normally come in for a beer.
"People are just sitting at home right now, looking for things to do," Whisenand said. "The world has changed and we need to find ways to continue to contribute."
Still, others continue to meet in person.
Sean Hayford Oleary, a web developer from Richfield, is already accustomed to working from home. Last week, he drove over to a couple's house to have a drink and talk: "No handshakes, no hugs. Just hanging out," he said.
He hopes to continue the pattern over the next few weeks, whether it's seeing friends one-on-one or having someone over to work together. He's wary of larger at-home gatherings, like board game nights, which he said pose a greater risk for contact.
"I don't want to set myself up for something that's not sustainable at all of completely zero contact, ever," Hayford Oleary said. "We're social creatures. I think we do need to be able to see people in some capacity."
The coronavirus hasn't stopped Mary Lynum and her neighbors in south Minneapolis from seeing each other.
They normally gather at a neighbor's lawn to catch up, and set new rules for two recent small gatherings: Bring your own food, your own bottle of wine and stay at least 6 feet from each other. One neighbor even brought a tape measure to make sure.
"We call it social-distancing hour," Lynum said.
Lynum said she doesn't want to make light of the situation; her husband, who has asthma, was unable to join them outside. But a break from dire news is necessary, and being with others at a safe distance gives them a chance to commiserate.
"I think it's really important just for our souls and our spirits," she said. "It makes us feel like we're not alone."
A guide on how to connect for virtual happy hours, game nights and birthday parties.
Patrice Johnson hosted her first virtual happy hour last week. Now she has a calendar to keep track of her virtual social life: Monday nights are for work buddies; Wednesdays happy hour; Thursdays high school friends; Fridays, there's a coffee klatch; Sundays are for virtual brunch with her daughter.
"I don't know how long we will keep up this schedule," said Johnson, who lives with her husband in Roseville. "As an extrovert, I gravitate toward anything social that reminds me of how much I love the people I am lucky enough to call my friends."
The coronavirus pandemic has brought social life to a halt, wiping brunches, book clubs and birthday parties from calendars. But we're finding ways to connect, hosting everything from simple one-on-one FaceTime chats to improv comedy sessions using PowerPoint prompts and virtual beer pong tournaments.
Virtual events give us something to look forward to, a reason to put on a clean shirt and a time to realize how many friends and family members are feeling the very same way.
"We need connection now more than ever," said Johnson. "It's kind of interesting that our technology takes the blame for taking our attention away from actual conversations, and now we have found a way for it to reconnect us."
1. Invite your friends, pick a platform and get comfortable
Johnson uses Zoom and Google Hangouts to connect, while others use Skype or FaceTime. The Houseparty app is becoming a popular way to play group games.
No matter the platform, most people find that selecting a grid view is best in a social situation, because it lets you see more faces at once.
All the different expressions and reactions (and the greater chance that a pet will wander into a square or two) make it feel more like hanging out in real life than settings that only show the person speaking.
Johnson recommends finding a comfy, well-lit spot to set up your device. Oh, and make sure you have space for snacks, a beverage and maybe a box of tissues, too.
The Quarantini
Serves 1. There are many variations on this drink, depending on what folks stocked up on before staying home. This version, originally published in the Washington Post, is from San Francisco bartender Sean Kelley.
Ingredients
1.5 oz of your favorite gin or vodka
0.5 oz Lillet Blanc (or any blanc vermouth)
1 dash Regan's Orange Bitters
Directions
Stir and strain with a lemon twist. If you don't have vermouth or orange bitters, pair 2 oz. gin or vodka with 0.5 oz. olive juice or pickle brine instead.
2. Open up, but listen too. Make sure you know where your mute button is and how to use it.
"Once you connect, allow yourself to feel whatever comes over you," advised Johnson. "There will be tears, lots of tears, but there will be even more laughter and love. Also, please check in with people who are introverted and isolated."
Zoom allows you to change the background so that it looks like you are calling from space, or even from your favorite bar, if you upload your own photo. (The app also has a "touch-up my appearance" feature to give your face a softer focus.)
Another tip: Make sure to spend a lot of time listening. It's impossible for everyone to all talk at once. That why most platforms have chat features that let you type to interject a thought or comment without interrupting. And of course, if your spouse is noisily loading the dishwasher, hit that mute button so the party isn't drowned out by the background clatter.
Living alone, Natalie Wires is finding that virtual-get togethers are a "lifeline."
The Minnetonka marketing director has been connecting with a few friends for regular game nights, using the Houseparty app to play the charade game Heads Up and doodle game Quick, Draw.
"It was incredibly comforting to just hang out, laugh and focus on something other than coronavirus for a while," she said.
3. Join a group that's already connecting in the virtual world.
While many first-time virtual event planners are keeping things small and casual, folks at the media arts organization Pollen hosted a Zoom gathering for 300 people last Thursday. They now have one planned every week, through April 9.
The group, which works to build empathy through storytelling, decided to create a series of virtual events called "Are You OK?" with speakers, musical performances and lots of connection. The first one was fully booked through free tickets on Eventbrite.
"You could see people crying. I don't think we all knew how much we needed it," said Jamie Millard, the group's executive director. "It was also a reminder of normalcy and some way to be with people."
Millard said she's seen lots of innovative ways to connect.
"I am really buoyed by the resilience of people pivoting quickly and being willing to try something new and different," she said. "There's positivity, there's ingenuity, there's connection that's happening."
Johnson, who teaches cooking classes at the American Swedish Institute, has been creating different menus and drink pairings for her virtual events and sharing photos on Instagram.
"There are ways to remind ourselves to celebrate whenever we have the opportunity," she said. "Yes, things are really dire, but don't allow current events to dim whatever light you have."