The Twins broke their team record for home runs in a season Friday, reaching 226 in only 116 games. That record now stands at 228 after they hit two more Saturday. The old record of 225 was held by the 1963 Twins. Next up is the 2018 Yankees' big-league mark of 267; the Twins are on pace for 313.
Here's a look at where the Bomba Squad have hit their homers in 2019:
Spray charts and statistics current as of Aug. 11, 2019.
Select a Twins player to see their home runs this season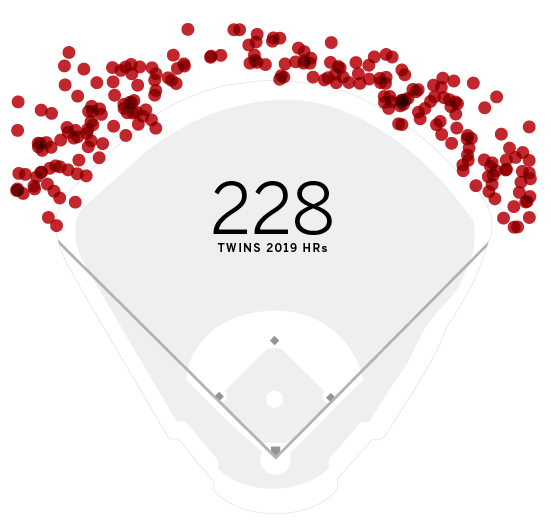 Note: Spray charts and statistics obtained from baseballsavant.mlb.com. The field shown in the spray charts is modeled after Kauffman Stadium, the home of the Kansas City Royals. Due to the variation in fence distances at each ballpark, some dots may render inside the field of play.
MLB Statcast collects spray chart data by hand, and occasionally a home run goes uncharted. Five of the Twins home runs are unaccounted for, according to Statcast data. The Star Tribune used videos of these home runs as well as Statcast data to estimate landing points for the unplotted home runs.